Been a lurker here forever, finally found a donor trike after looking all summer. I'm hoping to document my chronicles here and maybe folks can learn from my experience, and I can bounce ideas off the gurus here. My goal is to someday have a bike that I can cruise at 55-60mph. Where I live, to get anywhere requires riding on roads with 55mph speed limit. The 40mph the little 90 can do just won't cut it.
The patient. This bike has been in my family since new. It runs ok-ish. I can't seem to get the carb quite right. Top speed is 40-42mph.
The Donor. $300 on craigslist. 1985 ATC 125M. I view these things as death traps. This one is rough, so I won't lose any sleep in tearing it apart.
Initial inspection of the trike. It had about 8oz of sand in the tank, which plugged the entire fuel system. The carb is totally full of nasty and sand. I was able to get the electric start to work after jumping some wires. The push button has a broken wire and I am fairly sure the neutral switch isn't working. The trike used to have a neutral bulb but it is long gone. After a couple hours of cleaning, and a new spark plug I got it to start and move under its own power. Did I mention the shifter is missing and there is a pair of vice grips in its place?
So I started tearing the ATC down. luckily there seems to be little to no hackery in the wiring from the previous owners, which is promising. I have yet to get out my meter and check any of the wiring, especially the neutral switch. This is what I am left with after about 3 hours of work.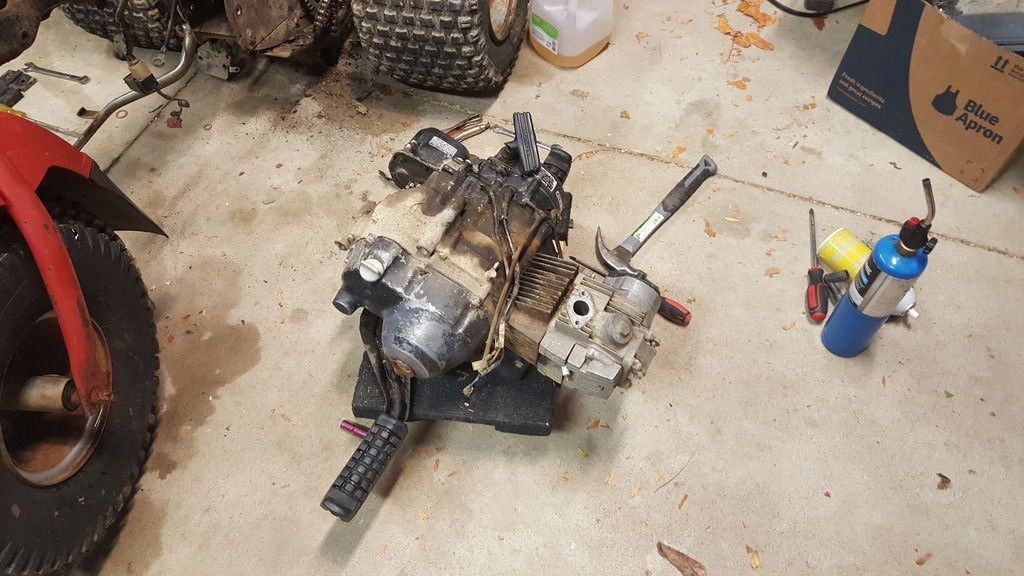 The demoralized and stripped ATC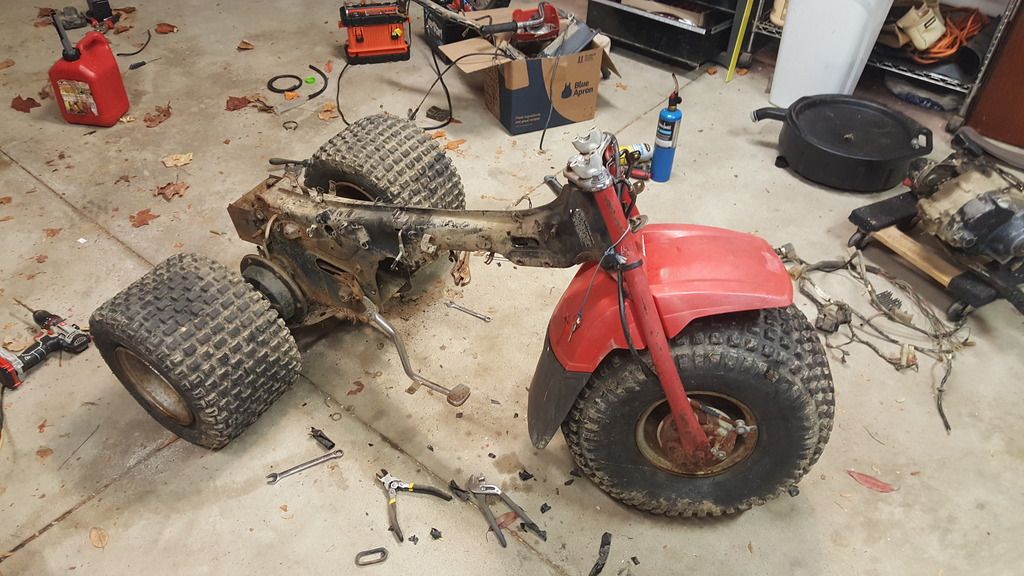 These bikes are remarkably simple. This one looks like it hasn't seen a ton of use. It has however most likely been sitting outside most of its life.
My questions so far:
1- The ATC carb is pitted in places. Anyone know if the intake manifold will work with the CT?  How about replacement carbs? I may get a rebuild kit, not sure yet.
2- What is everyone doing for controls? I could swap over the ATC controls, but I want turn signals at some point. Throttle cable?
3- The shifter splines are rusted from the vice grips. In the event I cannot get a new shifter pedal to go on, will the engine cases need to be split to replace the shifter shaft?
4- What chain is everyone using? Length? How about sprocket sizes?
5- What exhaust is everyone using? I don't mind using a pit style exhaust, but may modify my original.