I needed to recharge batteries on extended trips. This is how I worked out a system that would operate from a 6V CT.
There are plenty of 12V charging circuits, and commercial 12V chargers are readily available, but I could not find circuits
for a 6V input circuit (let alone commercially produced chargers) that met all my requirements, and there were a lot of these :


1] 6V input
2] Efficient use of the 4 amp capacity of a CT battery
3] Charging of NiCd / NiMH cells in AA and AAA size
4] Charging of LiPo cells as used by my camera
5] Timed and regulated charging with peak charge termination
6] Compact size
7] Input battery voltage indication to avoid over-draining the bike battery
8] Degree in electronics not needed
9] Low cost


Ideas that were considered and rejected –
* Boost voltage to 12V with a converter. This worked using a voltage doubler, but not efficiently. More than 2A at 6V
input was required to output 1A at 12V, and voltage spikes in the CT electrical system prevented the converter being
used safely when the motor was running.
* Direct charging. Simply connect packs of four NiCd or NiMH cells to the CT battery. This method works but state
of charge can be monitored only checking how hot the cells become. Timed charges are wildly inaccurate as the required
charge varies with the start state of both the bike battery and the cells being charged. Prone to error, with
misjudgment or inattention leading to damaged cells. Also, direct charging is not safe for LiPo cells.
* Convert bike to 12V. Too complicated.

The project lay stalled until I spotted the charger below. It's designed to work off a computer USB port which is 5V.
Five volts was close to what I was working with - perhaps the extra volt from the CT would not matter? If so,
here would be a solution to some of my charging needs. One problem : when fully topped up the bike battery might go as
high as seven volts, and with the CT's rather primitive electrical system there may be even higher peaks while running.
This would affect the accuracy of the charger's cut-off system. I needed a way to stabilize and regulate the input to 5v for reliability.
The eureka moment came from aeromodelling where electric powered models are currently very popular.
Model electric motors often use 3.7V LiPo cells for their high capacity to weight ratio, made up into
packs in multiples of 3.7v – two cells 7.4, three cells 11.1, etc. Power from the battery packs is fed to the motor
through an Electronic Speed Controller (ESC) that often performs another task as well, the elimination of a separate
battery to power the model's radio control system through a Battery Eliminator Circuit (BEC). Airborne R/C
components operate on either 4.8 or 6 volts, so BECs are set for either of these voltages, or are
switchable between 6V and 5V, constant no matter how many cells the motor is running off.
An offshoot of LiPo cells in electric models is their use in powering the radio control systems of non-electric
models due to their low weight compared with NiCds. For this purpose only a battery eliminator is required, which
is handy as the system I was thinking of wouldn't need an ESC, just a BEC. Below is an example of a BEC that will
output either 5 or 6 volts at 3A from an input that can vary between 6 and 22v. It provides a means of getting
a constant five or six volts to a USB-powered charger no matter how much the bike's battery or charging system
fluctuate above 6V.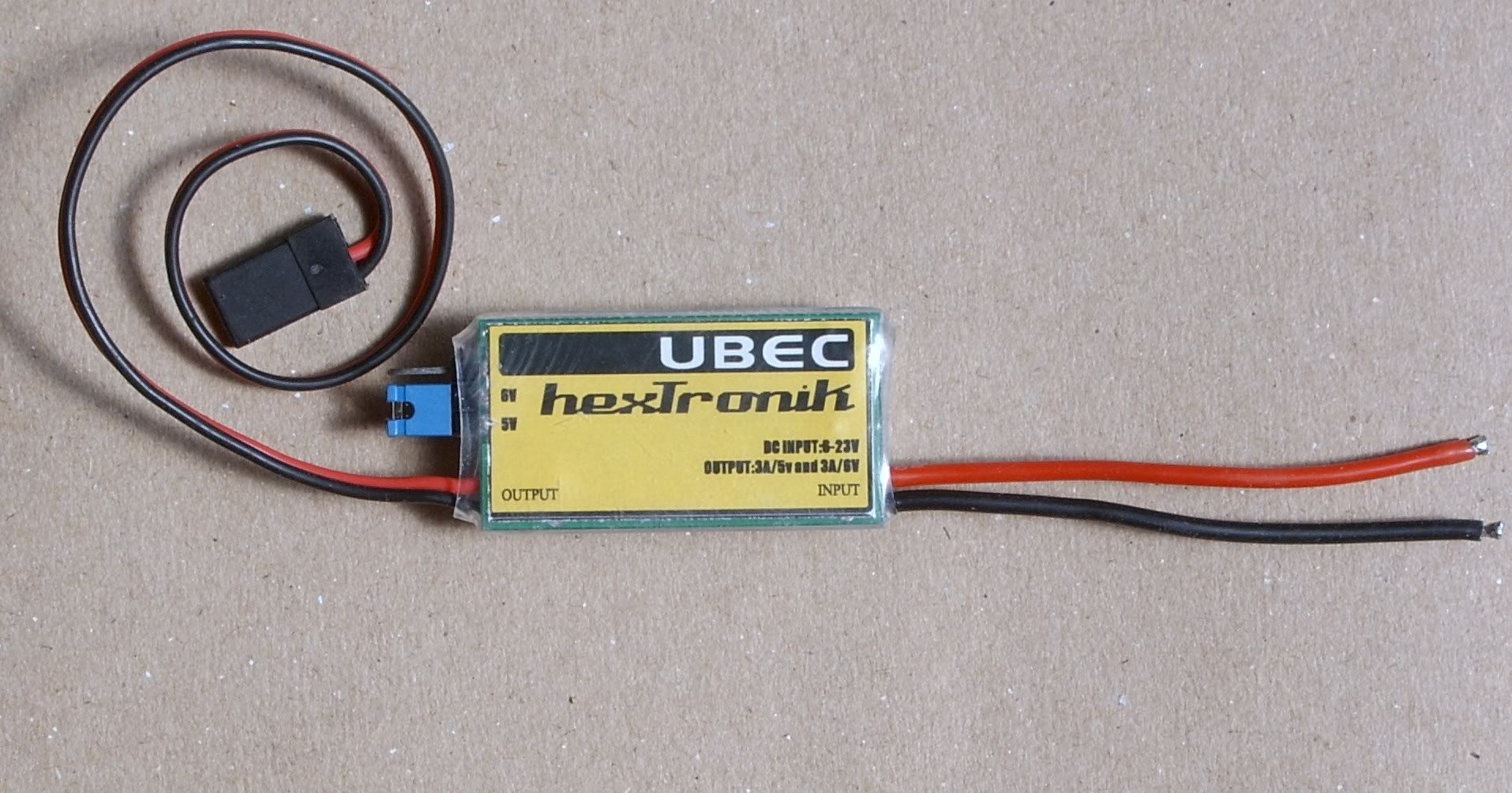 For travelling, my battery operated devices are selected so that just one size of rechargeable cell, AAA,
needs to be carried. This size has enough capacity for a day's use, even for the GPS which is the heaviest
user of battery power, and they are quick to charge compared with AAs. A USB charger that could charge
four cells at the same time was decided on. Below is the one I settled on. As well as running off a 5V input,
it has some other tricks. A 12V adapter allows it to work off a car (or 12V Postie); with charged AAA's in
the battery holder it can top up a cell phone (no use to me as I avoid these Satanic devices); and surprise!!
there is a built in torch. Charge is terminated by the delta-V method, which is well proven.
Four 800mA AAA cells can be fully charged in about an hour.


Next step was powering the charger for my Samsung camera, shown below.

This charger is intended
for LiPo cells but can also charge two AA cells, which would be a bonus if these are ever needed.
Its inputs are
230VAC or 12VDC, neither of which was of any use. However, the
12V input is dropped
to 5V in the
cigarette lighter plug : it is really a USB charger modified for use of 12V.
Removing the voltage-drop circuit meant that it could be feed from the BEC at 5V.


To this point, requirement #2 still had to be proven by use, but the system was meeting all my requirements
except #7 - some way of avoiding the bike battery being over-drained. The photo below shows the two
chargers attached to the regulator and ready to be connected to the bike. Normally one charger at a time
would be connected in light of the small capacity of the bike battery. The 50 x 25mm plastic box is a pill
container that houses the BEC and an item meets requirement #7. It monitors bike battery voltage when
it is under load by the charger and is also an accessory from aeromodelling. It is designed to check the
condition of the airborne battery used to power a model's radio control system. These voltmeters are
available with 4.8V, 6V, or switchable outputs – this one is switchable and I have set it to 6V. A strip of
LEDs shows voltage – when any of the three red LEDs on the left light up it is time to stop charging.


Left: Bike battery above 6V / Right: Bike battery below 6V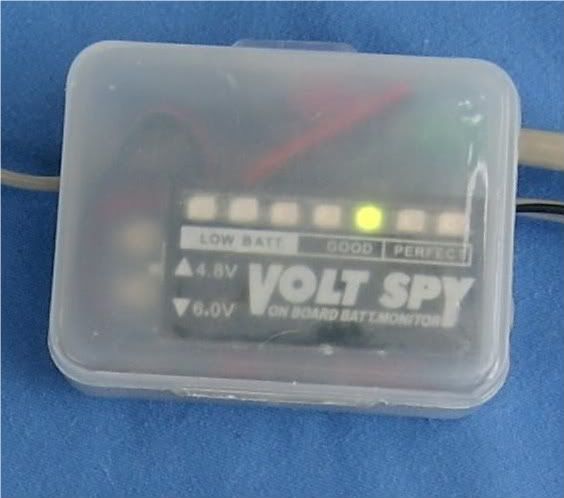 Arrangement of Regulator and Voltage indicator inside pill container.
Wire entering at top : 6V in from bike, to voltmeter and regulator.
Wires exiting at bottom : 5V out via USB cable to AAA charger,
5V out via twin-flex to LiPo/AA charger.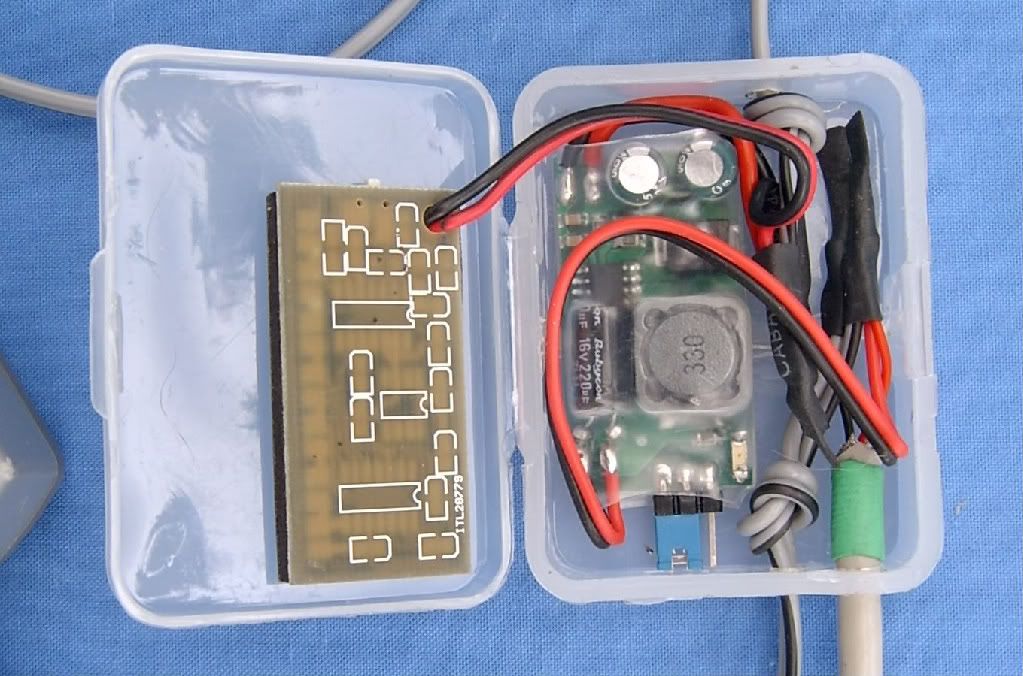 Connections at the bike:
Lead with fuse and Deans plug is hard wired to the bike battery. When not in use the lead is terminated
with a blanking plug so there is no possibility of a short or fouling, and is stored within the side cover.
Deans plugs were used because they mesh together very firmly to make a sound electrical connection,
and cannot be accidentally connected the wrong way round. Make sure that the female Deans plug is on
the lead from the battery, not from the charger. Fuse is 5A quick-blow.

All the charging components fit inside an airtight 150x100mm sandwich container which gives them good
protection and is easy to slip into a pannier. Just enough room in there for one small sandwich as well ?
The system has been thoroughly tested: it meets all my requirements, and is in use. There have been a couple of
unplanned bonuses. First, the input is voltage regulated which means the charger can be used while the bike is running
without being subjected to voltages above its operating limits. Second, it can be easily duplicated - it does not require
circuit construction as it adapts existing items. Electrical work is limited to the linking of existing commercial units and
simple soldering.
! Make sure the NiCd charger you use has a reliable charge termination.
! Use only a purpose-designed charger for LiPo batteries - anything else is unsafe with these cells.
Bernard